Jonathan håller på och är snart klar med sin Fencel dvs. sitt hus på hjul. Det är klart värt att gå in på hans blogg om du vill se detaljerat hur han har gjort, massor av bilder. Han kallar sin blogg  Jonathans journal.
I det senaste inlägget visar han en video, hur det ser ut i hans hus på hjul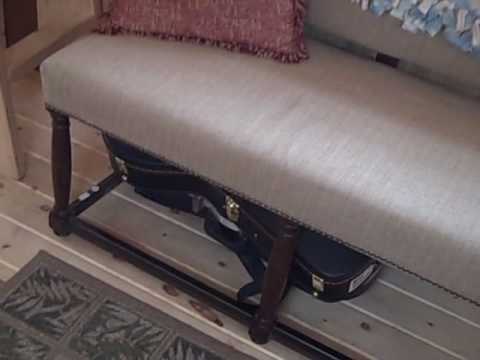 Nedan beskriver Jonathan lite om sig själv oh varför han ska bygga ett hus på hjul.
"As for why I chose to build this tiny house, well… one of the main reasons was to prove that I could. There are certain skills and abilities that I think every provider should have, and being able to build a home is one of them. I originally wanted to build a cob house, but I didn't have land upon which to build. I also wasn't sure where I wanted to "settle," and I wasn't about to start building a house only to have to move and lose my efforts. The mobile tiny house seemed an effective solution.
The further along I get in building my tiny house, the closer I come to realizing that it'll one day be done. This is a worrying concept, because it readily brings to mind the question "what next?" Step one was to build the tiny house. Step two is to buy something powerful enough to haul it, and step three is to find a place to park it. Ultimately, I'd like to buy some acreage, park my tiny house, and build a cob or strawbale structure for use as a workshop.
What I would love is to have tiny houses for my friends all around me, with a communal workshop or gathering space made of cob in the middle.
I don't know if this can be realized.
I DO know, though, that I CAN build it.
It at least gives me a goal, as well as a place to start.
Building this tiny house has surely been an adventure, but I don't think I'd want to build them for a living. I have deep respect for those who do, because it takes a lot of energy and effort. However, I hope I can inspire my friends or others to build them for themselves, or at the very least to eliminate the excesses in their lives, and realize that we CAN be happy, and indeed be happier, with much less.
For my friends and family who've been with me from the start, thank you for your support. Even I thought I was crazy when I started, but you've all treated it like a "cool" crazy, which makes me feel empowered."